Visuon
New era for visual impact on business
New version 3.0 released!

With our new version 3.0,

reach the huge efficiency and savings based on our 360° visualization approach

We at Visuon believe that VISUAL and VIRTUAL approach will generate better understanding to anyone who wants to understand or learn e.g.
what's it like where they are going to
how something works
how something is fixed, maintained or serviced
how something is studied or learned
how something is brought VIRTUALLY close to you to see or study when you can't travel to the site
Visual solutions provide engaging and fun experiences for users. Interactive, even gamified, content will help increase a better understanding of your organization's processes, procedures and products.
Make the Visual Impact on Your Business!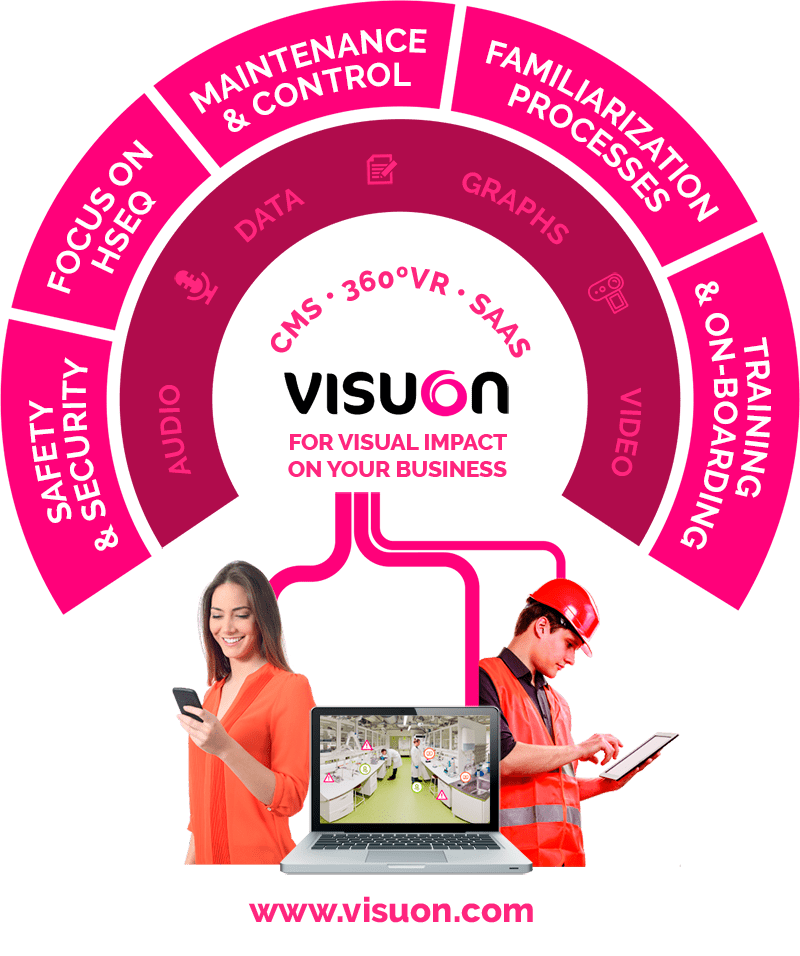 Industrial business
We have proven solutions and applications already done for our industrial customers. They are using our visual contextual guidance service on areas of maintenance, safety, security, quality, and many more. Do not forget about supporting information management where you can guide your people visually to the right and needed information.
Healthcare professionals
Especially nowadays when distance between people is needed and near contacts should be avoided remote guidance and supporting information are extremely important. Our customers in healtcare sector are using 360 degree visualizations in patient guidance but also, for example, in providing cleaning instructions to cleaners. Do not forget formal training!
Education and learning
The most obvious solution area for Visuon is education and training. We have fore runner customers in education sector where trainers and teachers are doing visual content by themselves. 95% of content creators have said Visuon is so easy to use that they love it. We can prove it! Just contact us and let us show it to you!
Supporting information with Virtual Reality visualizations
Make sure target audience understands your matter. Let's create something totally new! Or do you have your 360 images ready to go – make them inspiring. Let us to help you!
Use cases – Visuon experiences
Case: KONE
"Training takes less time and cost but efficiency in
production is higher. Our maintenance
workers can have fun while working which is our
goal for workplace culture"
Join these leading organizations who trust us